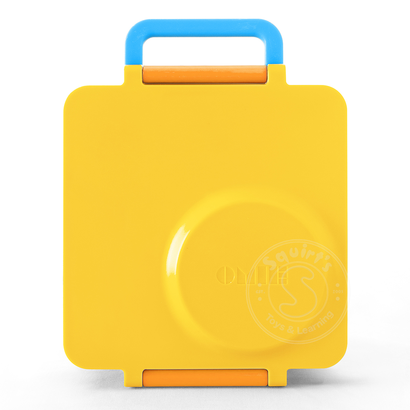 OmieBox Sunshine Yellow
OBSU
Availability:

Out of stock
Encouraging kids to eat a healthy, balanced meal is important. OmieBox is an insulated bento box that holds hot and cold food in one box. It has 2 temperature zones so entrées keep warm while veggies and fruits stay cool! <br>
Features:
OmieBox uses tw ...
More information
Product description
Brand:

OmieBox

EAN:

860502000102

Article number:

OBSU

Availability:

Out of stock
Encouraging kids to eat a healthy, balanced meal is important. OmieBox is an insulated bento box that holds hot and cold food in one box. It has 2 temperature zones so entrées keep warm while veggies and fruits stay cool!
Features: OmieBox uses two types of insulation so meals are always served at the perfect temperature. Air insulation, vacuum insulation plus an airtight seal minimizes heat transfer to keep food fresh and yummy.
Every bowl inside OmieBox is made of 2 layers of food grade stanles steel and vacuum insulated. The bowl is wide and shallow, sokids can easily scoop outfood.
Specifications: 1.7lbs with vacuum insulated container
1.2lbs without the container
Outer dimensions are 7.2"L x 7.2"W x 2.9"H
Volume:
Long compartment: 15oz
Short compartment: 10oz
Square compartment: 25oz
Insulated container: 7.5oz
OmieBox is BPA, phthalate free and complies with all FDA and CPSIA requirements.
Cleaning:
OmieBox is top rack dishwasher safe but recommend hand washing or removing before the heat dry cycle.
Handwashing is HIGHLY recommended for retaining the vacuum insulation.